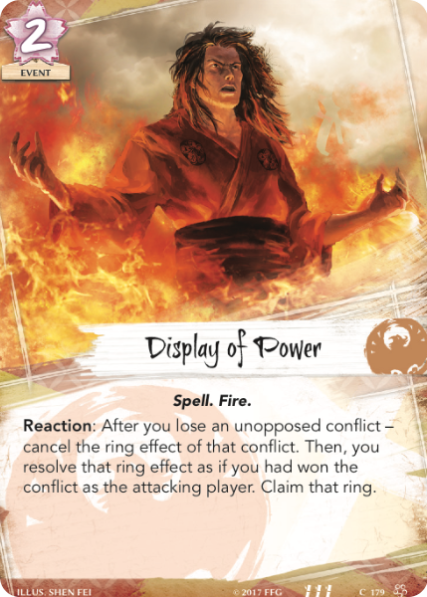 Mantis Clan • Coyote • Shugenja • Earth • Trickster • Nonhuman • Spirit • Storyteller • Progressive
---
Posts: 32
Joined: Wed Apr 26, 2017 7:24 am
---
Another spell that doesn't require shugenja. Interesting. Also, that is a very nice spell. The threat of it means your opponent will have to be even more careful, because you can give up the province to take the ring effect and bow all their guys. Also I believe it laughs at Hotaru/Toturi, as they don't claim the ring to get the effect. All in all, I like it.
Henshin * Naga Enthusiast
---
Posts: 39
Joined: Tue Mar 14, 2017 5:32 am
A good reason to sit on 2 fate, especially early game... because even if you DON'T have it in your hand, they'll have to wonder, what if you do?
---
Who is online
Users browsing this forum: No registered users and 2 guests